In the vast world of anime, some stories captivate our hearts and bring joy to our lives. One enchanting tale is "My Senpai from Work… is Tiny and Cute." This anime revolves around a seemingly ordinary office worker named Shinozaki, who is immersed in the care and affection of his senior teammate, Shiori Katase. Shiori, a beautiful and petite woman with a heart overflowing with kindness, becomes Shinozaki's pillar of support in his professional life.
As the story unfolds, we witness the blossoming of a heartwarming relationship between Shinozaki and Shiori. While Shinozaki hopes that Shiori's caring nature is fueled by something more profound than mere obligation, her growing happiness in taking care of him hints at something deeper – the stirring of her feelings. The delicate nuances of their interactions and the subtle hints of romance make "My Senpai from Work… is Tiny and Cute" a delightful anime for those seeking a tender and heartwarming storyline.
Story Line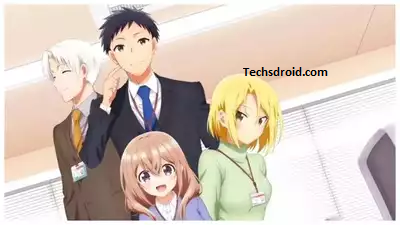 Shinozaki, the protagonist of "My Senpai from Work… is Tiny and Cute," is a diligent office worker in an unexpectedly heartwarming dynamic with his senior colleague, Shiori Katase. Despite her remarkable beauty and petite stature, Shiori goes above and beyond to care for and nurture Shinozaki. While he yearns for her actions to be driven by genuine affection rather than a sense of obligation, Shinozaki is captivated by the undeniable joy and warmth that emanates from Shiori as she attends to his needs.
Throughout the story, the evolving relationship between Shinozaki and Shiori holds great significance. Viewers are drawn into their blossoming connection, eagerly anticipating whether Shiori's actions indicate deeper emotions or mere duty. As the plot unfolds, the intricate layers of their bond are unraveled, offering a poignant exploration of vulnerability, trust, and one's feelings. The delicate balance between Shinozaki's hopes and Shiori's growing reveal of her emotions forms the crux of the anime's storyline, captivating audiences with each episode.
Character Development
Shinozaki, the protagonist of "My Senpai from Work… Is Tiny and Cute," undergoes significant character development throughout the series. Initially portrayed as an ordinary office worker, Shinozaki's interactions with his senior team member, Shiori Katase, gradually shape his personality and ignite a transformation. Shiori's unwavering care and affection towards Shinozaki not only leave him wondering about her true intentions but also unravels his own emotions.
Shinozaki's once stagnant and monotonous existence takes on new colors as the story progresses. The profound kindness and love he experiences from Shiori awaken dormant feelings within him, forcing him to question the nature of their relationship. The audience witnesses his internal struggle as he battles between hoping that Shiori's care is genuine and fearing that it may simply be a sense of duty. With each passing episode, Shinozaki's character development becomes more pronounced, making the viewers eager to explore the depth of his evolving emotions.
Animations
Shinozaki's workplace interactions with Shiori Katase are beautifully brought to life through the captivating animations in "My Senpai from Work… is Tiny and Cute." The animators skillfully depict the nuances of Shiori's gestures, expressions, and acts of care towards Shinozaki, adding depth to their relationship. From the subtle blushes on Shiori's face when she attends to Shinozaki's needs, to the gentle sway of her hair as she projects her affection, the animations effectively convey the growing emotional connection between the two characters.
Furthermore, the animations in this anime admirably capture the essence of Shiori's character development. As the story unfolds, her personality shines through the seamless movements and graceful animations. Viewers witness Shiori's transformation from a senior team member to someone who genuinely cares for Shinozaki personally. Through her actions and the animation techniques, the audience can witness the depth of her kindness, love, and sincerity. The animations skillfully highlight the gradual unveiling of Shiori's emotions, leaving the viewers intrigued and eagerly awaiting further progression in their relationship.
Information
Type: TV
Episodes: Unknown
Status: Not yet aired
Aired: Jul 2, 2023 to ?
Premiered: Summer 2023
Broadcast: Sundays at 01:30 (JST)
Producers: Bit grooove promotion
Licensors: None found, add some
Studios: Project No.9
Source: Web manga
Genres: Comedy, Romance
Themes: Workplace
Duration: Unknown
Rating: None
Download Links