As an avid audiophile and tech reviewer, I've tested countless Bluetooth earbuds over the years. But none have wowed me quite like the TOZO OpenBuds. After extensively testing them for the past month, I'm excited to share my in-depth review of these innovative wireless earbuds.
The wireless earbud market grows more crowded by the day, with countless brands vying for your attention with lofty claims and flashy features. But within this sea of sameness, some products still manage to stand out and deliver something truly innovative. The TOZO OpenBuds are one such pair of wireless earbuds that grabbed my attention and refused to let go.
Customizable Dual-Axis Design
Right off the bat, the OpenBuds' unique dual-axis design grabbed my attention. Unlike most earbuds with fixed angles, these allow you to adjust both vertically and horizontally to get the perfect fit. By playing around with the various angles, I tailored a snug and stable positioning that stayed put even during vigorous workouts. This customizable fit caters to all ear shapes and sizes for unrivaled comfort.
Supreme Comfort for All-Day Listening
Speaking of comfort, the OpenBuds really shine for long listening sessions. Their breathable open ear design prevents that irritating stuffed-up feeling that many sealed earbuds cause. Whether I was taking video calls or listening to playlists, the lightweight OpenBuds didn't cause a hint of ear fatigue even after hours of wear.
Optimized for Safe Driving
Beyond delivering impressive comfort, the TOZO OpenBuds also provide a safe driving experience. With the ability to use each earbud independently, they are perfect for hands-free calling while on the road. The open design allows you to remain aware of your surroundings, unlike isolating earbuds that block out all noise. This combination of comfort and situational awareness makes the OpenBuds ideal for driving.
Crisp Audio Powered by ORIGX
While optimized for driving, the versatility of these earbuds enables them to seamlessly transition between various daily scenarios. From video chats to podcasts and everything in between, the OpenBuds delivered stellar Bluetooth audio in every situation I tested.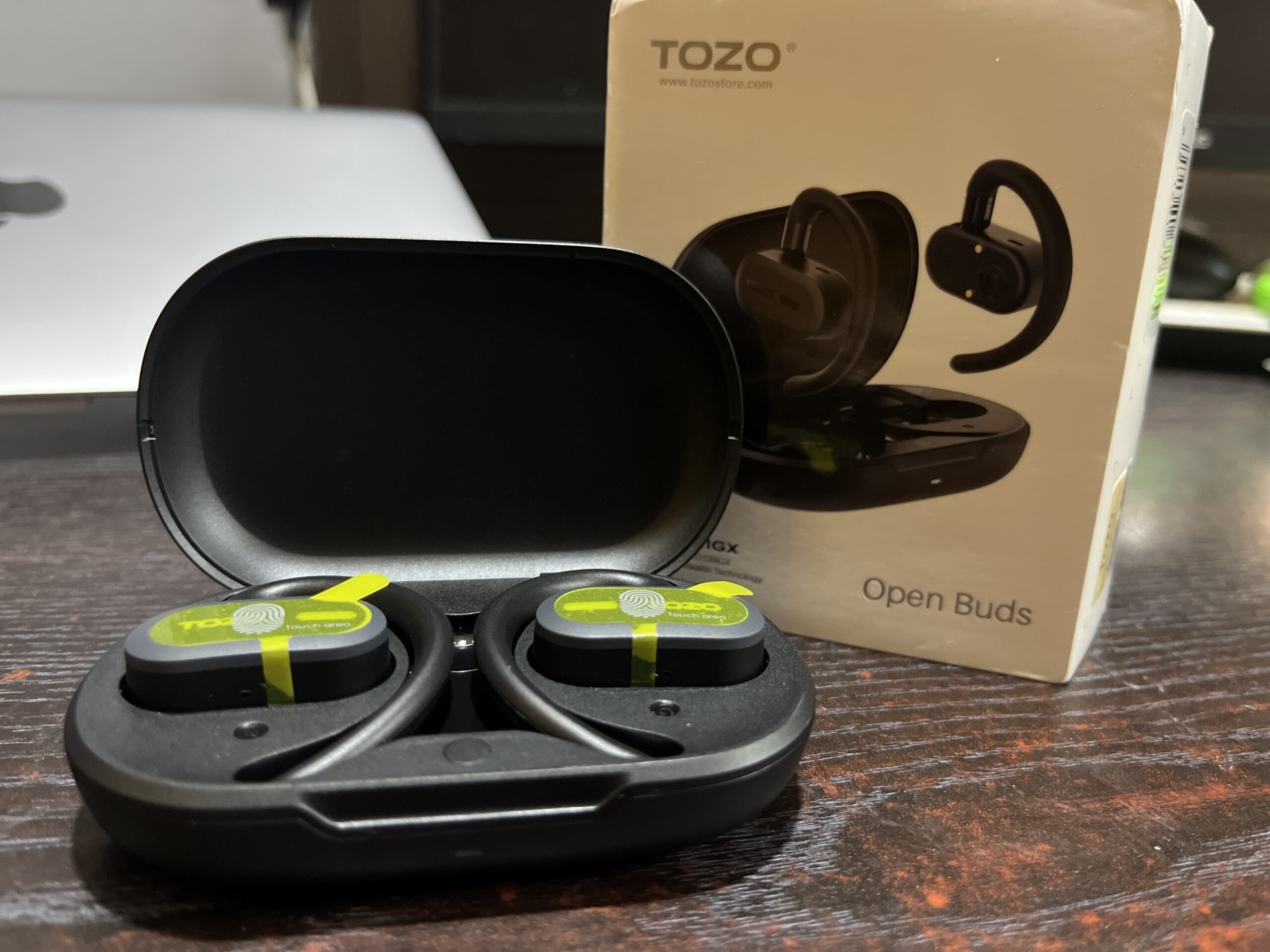 Powering this great sound quality is TOZO's ORIGX acoustic technology. It provides richer bass and more focused mids/highs compared to standard Bluetooth audio. An easy-to-use EQ in the TOZO app let me tweak the sound profile to my liking. With the ability to switch between five crisp presets, I could optimize the audio for different genres and moods.
Seamless Connectivity with Dual Pairing
Beyond personalized sound, the TOZO app also enables effortless switching between two paired devices. I loved the convenience of quickly alternating between my iPhone and MacBook. This dual connectivity removes the hassle of repairing every time you swap devices.
Decent Battery Life
With up to 6 hours of playtime per charge, battery life is adequate but not amazing. However, the slim charging case provides an additional 36 hours of power for a total of 42 hours. This meant I could go days without plugging the case in – a huge plus for my on-the-go lifestyle.
The Bottom Line
Considering everything the TOZO OpenBuds bring to the table, they've quickly become my go-to earbuds for daily use. If you're looking for a customizable, comfortable fit paired with great sound quality across a variety of scenarios, the OpenBuds should be at the top of your list.
I can wholeheartedly recommend them for music lovers, professionals, athletes, and anyone in between. Just don't take my word for it – check them out for yourself today!